After 11 years and eight months of work, the Friends of the Roc City Skatepark is proud to write that on Wednesday, October 9, 2019, the City of Rochester broke ground on the Roc City Skatepark.
Here's a few pics from the event by Heliosun Photography, and a number of articles about the groundbreaking and the park! We've also included the speeches from our President, James Maddison, and our Executive Director, Alan Presutti.
ARTICLES ABOUT THE GROUNDBREAKING.
https://13wham.com/news/local/work-underway-on-roc-city-skate-park-downtown
https://www.wdkx.com/groundbreaking-on-rochesters-first-ever-community-skatepark
https://spectrumlocalnews.com/nys/rochester/community/2019/10/09/officials-break-ground-on-rochester-s-first-skate-park
https://www.rochesterfirst.com/news/roc-city-skate-park-to-break-ground-wednesday/
SPEECHES FROM THE GROUNDBREAKING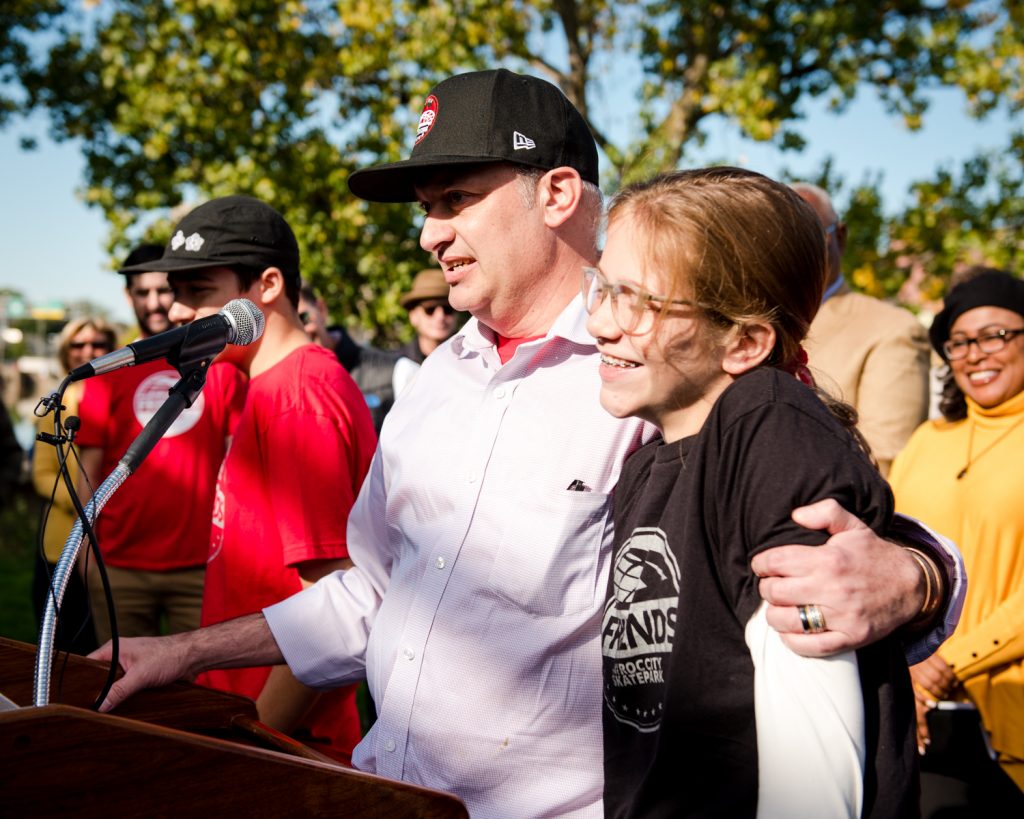 BOARD PRESIDENT JAMES MADDISON'S SPEECH
Perseverance is one aspect of what I believe is the single most important quality of leadership.
Credibility.
I am often asked why I have dedicated so much time and effort to this project during the past 12 years
My reason is very simple.
I promised my children I would build a skatepark. I can't think of a better or more important reason than my promise, and I never qualified the promise with "unless there are challenges to work through and obstacles to overcome." This credibility carries over to other parts of my children's lives, and they trust me. This trust helps them to feel secure.
Every single child in Rochester deserves to be treated in this manner, to trust grown ups, and to feel secure. There can be no broken promises, even if the promise has challenges to work through and obstacles to overcome.
Sadly, one of the children who trusted us to build a skatepark where he could feel secure is no longer with us. Akeer Matthews died after being hit by a car on his skateboard. He died on this exact day – October 9, 2010.
Akeer's mother Sheila is here with us today. Sheila, please let Akeer know we did keep the promise we made to him and that you, his spirit, and his memory have helped us work through many challenges and overcome many obstacles.
The Roc City Skatepark will have a lot of meaning and represent different things to different people.
I will forever see the skatepark as a representation of a credible volunteer working board dedicating countless hours of their own time to the mission of improving the health and wellbeing of our community;
I will forever see a representation of credibility among our business leaders and sponsors who are providing the resources to make the vision of a skatepark a reality, including Justin Barnes, Xerox Corporation, Nelson Leenhouts, Sutherland Global, Sage Rutty, RG & E, Ralph C. Wilson and Tony Hawk Foundations, and the Sands Family who provided our nonprofit unrestricted start-up funds and are matching every dollar we raise up to $110,000 that will be restricted to construction and additions to the park;
And finally, I will always see a representation of credible city leaders who, despite having to work through challenges and overcome obstacles, are building a skatepark because they promised the children of Rochester that they would build a skatepark, and there is no better or more important reason to build a skatepark.
Thank you, Mayor Warren, Commissioner Dr. Dr. Daniele Lyman-Torres, City Council, and the leadership of the City of Rochester.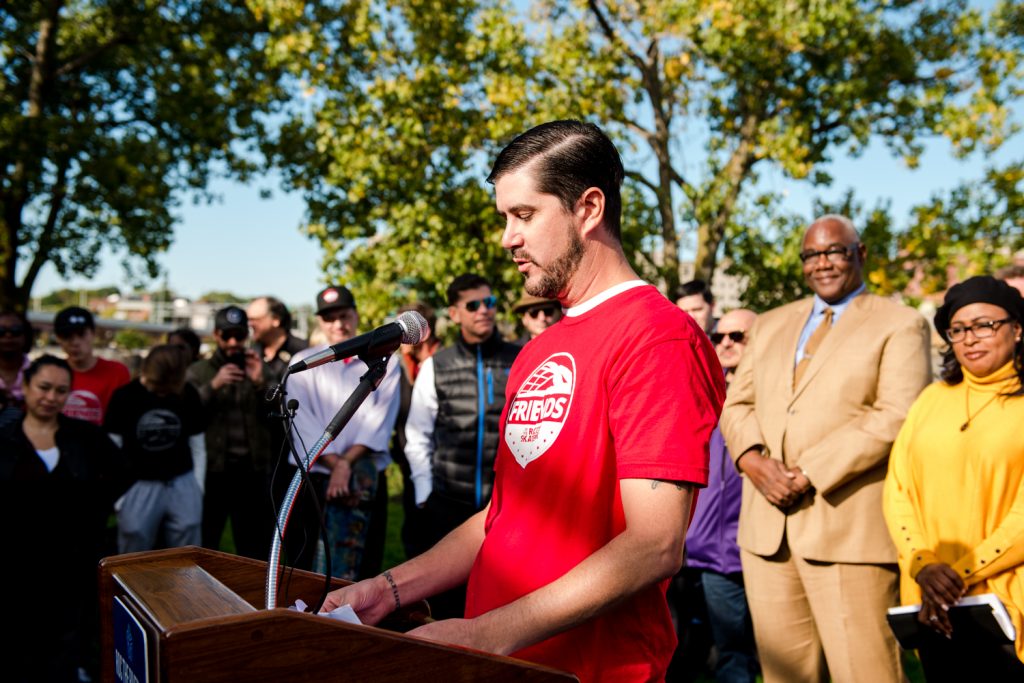 EXECUTIVE DIRECTOR ALAN PRESUTTI'S SPEECH
I would like to start by saying that The Friends of the Roc City Skatepark would like to thank Mayor Warren for having the courage to push this project forward and believing in its virtues ever since her days as president of City Council.
To all the members of the Roc The Riverway council for voting to provide us with the necessary funding to get us across the threshold, especially Shawn Dunwoody who has been supporting us since our first fundraiser at his gallery 11 years ago.
To Mitch Gruber and all the members of city council, Commissioner Lyman torres, Jim Farr John Piccone and Kristina Heiligenthaler from the department of Recreation and youth.
And The Tony Hawk Foundation for their guidance, support, and financial generosity.
We would also like to thank All the citizens/donors of Rochester that have believed in and supported this project even when it seemed impossible.
Today we stand here to witness the next step in the culmination of hard work, perseverance and a partnership between city government and a dedicated group of citizens. This skatepark, when completed will be a piece of the puzzle that represents the new future for Rochester, NY. A Rochester that is turning a new leaf by embracing its community and pursuing fresh new ideas while looking to the future and making choices that will continue make this city grow to be a better place for people across all social and economic backgrounds.
This Skatepark will also show the youth and families that currently live here that they will be included in the new Downtown experience.
The Friends of the Roc City Skatepark have worked hard by partnering with DRYS, The City school district, and the local business community to participate in a variety events, all to show that these once frowned-upon activities such as skateboarding, BMX, scootering, and rollerblading can be used as a great way build up communities when they are given properly-built and sanctioned locations.
We hope, when this park is completed, that it will be the tipping point for Rochester and its surrounding towns to embrace the concept of using properly-designed and constructed skateparks, and the participants of what we call progression-oriented sports in order to enhance the lives of their citizens and businesses.
We look forward to continuing to work with our government officials and ALL of our fellow Rochestarians to help make this city grow and be a better place for EVERYONE.
Thank you.
PHOTOS FROM THE EVENT
Photos by Heliosun Photography unless otherwise noted.